Customized solutions tailored to healthcare practices and various patient populations,
The passion for innovation and commitment to improving quality of care,
The story of women and men who cultivate the taste for new challenges.
CAIR LGL PERFORMANCE TODAY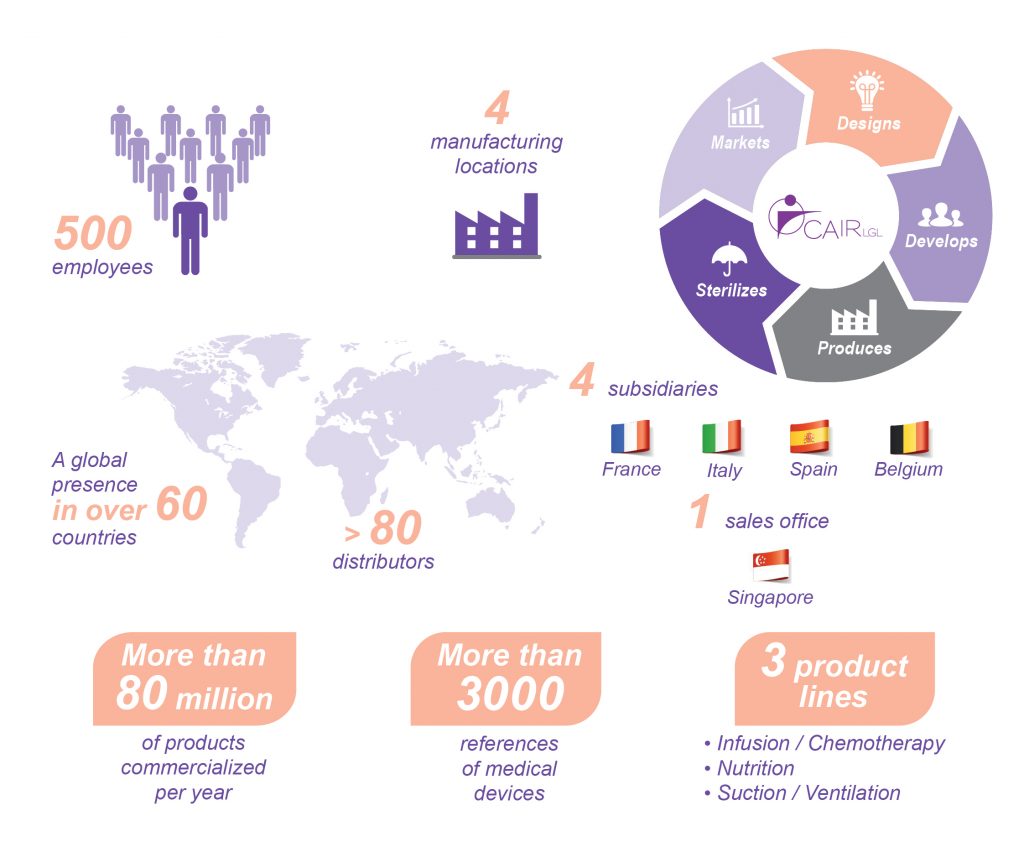 CAIR LGL, THE KEY PARTNER
By implementing of all its skills to develop products that meet patients and healthcare professionals' needs in the fields of infusion, chemotherapy, nutrition and suction.
CAIR LGL, KNOW-HOW AND EXPERTISE
With a complete range of devices for secure administration:
In infusion with NEUTRACLEAR™,
In chemotherapy with CHEMO-CAIR,
In nutrition with NUTRICAIR™ Enteral.
In 1987, Georges Gaston Lopez, who had been dialysed and transplanted twice from the kidney and liver, and Georges Antoine Lopez, his son, founded CAIR LGL.
The company initially specializes in the design, manufacture and distribution of sterile single-use medical devices in the main areas of infusion, nutrition, aspiration and oxygenation, respiratory tract and dialysis. In 1997, CAIR LGL, which has become one of the undisputed leaders in the national medical device market, developed its activity in Europe through several local subsidiaries.
That same year Cair Italia was first created, followed by Cair Holland, Cair Germany, Cair Spain, Cair Belgium and Cair England. This European presence contributes to the group's constant growth and allows it to listen internationally to the expectations of healthcare professionals. A CAIR LGL sales office is also based in Singapore.
Over the years, CAIR LGL has launched several certification initiatives for the American and Canadian markets, and complies with several ISO standards. To date, CAIR LGL has not changed its motto, according to the will of its founders: to do everything possible within the company to improve treatment and more generally the lives of patients; with the safety and comfort of the patient at the heart of its concerns.